Pawppy™
Automatic Pawppy Pet Feeder™
Every Pet Needs This!
Don´t miss out our LIMITED SALE and get yours NOW 50% OFF (you save 68$). This is the best way to feed your pet, guaranteed!
TIME FRAME: The Automatic Pawppy Pet Feeder™ has a time adjustable function. Select a time at which you would like to feed your pet. The Pet Feeder will open up at this time, revealing an inside shell from which your pet can eat.

FOOD CHOICES: To make sure it does not overeat, the portions are rationed. You can also choose from various inside shells that, according to food choices and time settings, rotate from within the food circle.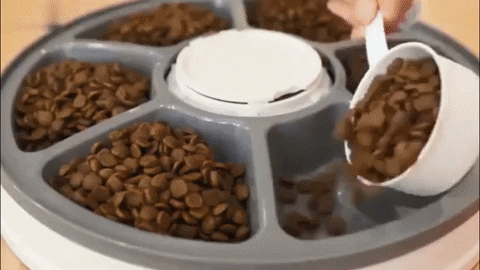 HEALTH: The rotating shells open at specific times which means one meal is eaten at a time. This way your pet will remain healthy, active, will not suffer from overweight issues and develop a health motivated eating pattern without even knowing. 
EASY CLEANING: It's easy to wash clean, and then it can be filled with new food right away. It washes easily and fast, making daily food supplies more hygienic, fast and simple. 
REDOUBLED HAPPINESS: Your cat or your dog no longer have to wait for you to come home. They will be happier. And so will be you.
Do you have questions about our products? Would you like to share some of your experiences with us? We would be thrilled to receive reviews and thoughts on our products or to help out with questions and doubts you might have. Please refer to our Support-Team. Contact us via email support@mypawppy.com and we'll come back to you asap.
Order Today & Receive 50% OFF!
Free Worldwide Shipping!

How many meals can the Automatic Pawppy Pet Feeder™ hold?
The Automatic Pawppy Ped Feeder™️ can hold up to 6 meals. 6 giant food bowls ensure that your pet will never be hungry.
When will the device open the food bowls so my pet can eat?
You can fully adjust when the Automatic Pawppy Ped Feeder™ will open each food bowl. Just set up the timer to when you want to open each food bowl.
Can I track my order?
Yes, we offer multiple worldwide shipping options which include tracking! As soon as your order is shipped, you will receive an email confirmation from us with your tracking information.
Can I get a warranty on my order?
Yes! We stand behind our products and that is why we offer the option to add a 1 Year Warranty to your order. If you add a product to your cart you will be able to add it to your order.
When will my order arrive?
We are currently facing a very high order volume which is causing some minor shipping delays. During this short period your order will arrive within 7-24 business days in the USA. We offer free worldwide shipping. For more information you can check out our shipping policy.